Bahco Hand Pruning Tools – Extensive Range, Superior Quality You Can Trust!
SWAT Supplies has an extensive range of Bahco Hand Pruning Tools to satisfy the demands of professional users and discerning gardeners – Bahco designs and manufactures only the highest grade pruning tools for all aspects of horticulture – whether it be viticulture, orchard, olive or garden.
SWAT can supply the entire available Bahco range of Tools – NOT JUST FOR HORTICULTURE. VIEW THE CATALOGUE!
Bahco's Secateurs & Loppers are divided into two types of blades:
BY-PASS: for cutting live and green wood
Bypass secateurs and loppers are used for cuts that affect the health of the plant. The bypass cutting head owes its name to the fact that the cutting blade 'passes-by' the counter blade in a scissor action. Bahco bypass secateurs slice through the wood as they cut it. This motion requires less force than a straight cut, and causes less compression damage to the wood.
ANVIL: for cutting mature and dry wood
Anvil secateurs and loppers are used where cleanliness of cut is not as important as removal. The blade of the cutting head is narrower and sharper than that of the bypass. When cutting mature and dry wood, the blade must be forced through the wood with greater pressure. The 'anvil' supports the branch and spreads the pressure to reduce damage. Bahco's pruning tools for gardening offer the end user a quality professional tool providing a precision finish in any gardening application.
Bahco Hand Pruners / Secateurs
View the BAHCO HAND PRUNER / SECATEUR BROCHURE!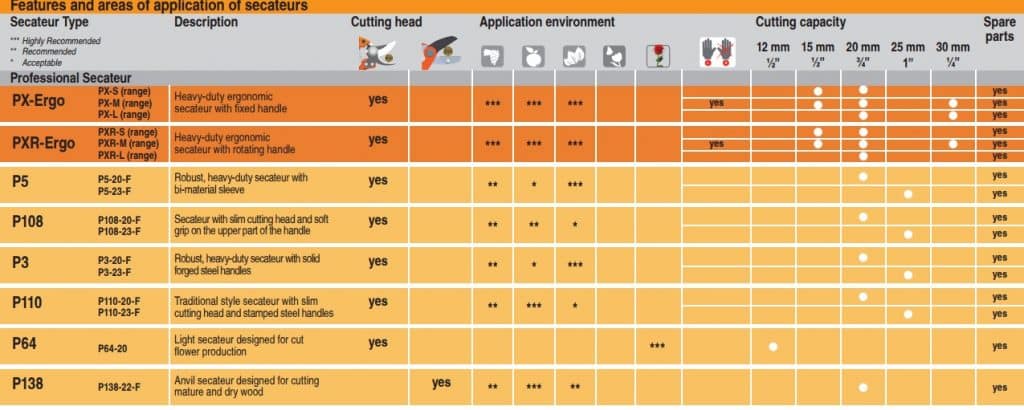 Bahco Loppers
View the BAHCO LOPPERS BROCHURE!

Bahco Pruning Saws
View the BAHCO PRUNING SAW BROCHURE!

Bahco offers exceptional products to professionals in the industrial, building & construction, automotive, horticulture & viticulture sectors as well as to the most discerning private user. Bahco commenced manufacturing over 200 years ago, and continues to be highly focused on innovation, performance and ergonomics.