SUBSCRIBE TO OUR OLIVE EMAIL CAMPAIGNS HERE!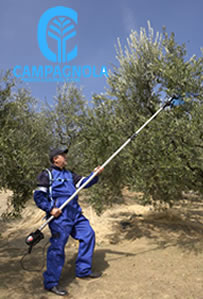 CAMPAGNOLA Olive Harvesters
SWAT sells the unique Campagnola 'Alice' electromechanical olive harvester.
This olive harvester with its side to side and elliptical dual rake motion is proving efficient at removing olives from unpruned trees.
SWAT sells and stocks a wide range of Campagnola tools and spare parts.
Alice-Elektra-low.pdf
Alice-Elektra-tech-low.pdf
Campagnola Holly 12 Electro-mechanical Harvester
The all new Holly olive harvester from Campagnola is designed specifically for the boutique grower. Recognising a vast divide in the harvesting market at an entry level, Campagnola have developed a product that suits the grower with under 100 trees. The Holly uses the same extension poles, trolley and cable as the highly sought after Campagnola Alice. Unlike other throw away tools at a similar price point, the Holly will meet the demands of boutique growers who are tired of ineffective machines, prone to malfunction and breakdown. There are plenty of imitators, but only one Campagnola.
More info HERE
Olive Harvesting Nets
Italian 90g per square metre olive harvesting nets are of a very high quality. Featuring double stitching, a tight polyethylene weave and eyelets in each corner and every 2 metres.
Technical Information
High quality, fine mesh weave.
6m x 12m.
Weight – 6480g.
M5000 Leaf Foliage Remover
– 1.6kW Petrol Powered (Electric also available)
– 40 kg Capacity
Manual Olive Cleaner
– Light weight wooden frame
– Removes leaves and dirt
Economy Plastic Olive Rake
Stainless Steel Oil Containers
– Available in 2, 3, 5, 10, 15, 20, 25, 50, 75, 100 Litres
– Suitable for olive oil, wine, honey and other food and beverage applications.
Oil Containers
– Available in 5 Litres (Rectangular), and 10 Litres (Cylindrical). Seal & spout options available.
Olive Oil Filter Bags
– Available in 5, 10, 25, 50 Litres
Bird Netting
SWAT now stocks a range of bird netting in 15mm – 10m x 10m or 6.5m x 6.5m packs currently available. Contact us to discuss your requirements.
Also Available:
Felco & Falket Grafting Knives
Grafting Tools
Grafting Tape
Bird Scare Tape
Picking Boxes & Bags
Simes / Agrifast Tapener Tools and Tape
Simes Staple Tools & Staples
Tree Wound Sealant / Dressing
Olive Oil Extraction Enzyme
8723-AS is an enzymatic preparation that enables to optimise the treatment of the olive paste in such a way that the oil extraction from the drupes is maximised and made easier.
View the 8723-AS Enzyme Info Sheet