Oenopompe by PMH Vinicole
Oenopompe by PMH Vinicole – A multi-functional helical lobe wine pump.
Barrel filling, racking, transfer, filtering, bottling, thermo-vinification. Our wine pump with flow-meter (innovation 2015) can pump everything: juices, wines, lees, musts, de-stemmed grapes, high temperature juices, cleaning products.
Designed to provide the best pumping quality and to resist the demanding conditions of winery work, OENOPOMPE® is distinctive for its innovative helical lobed rotor technology and its wide range of potential applications.
Four wine pump models:
15 to 130 Hl/h : OENOPOMPE® 90
25 to 250 Hl/h : OENOPOMPE® 180
30 to 450 Hl/h : OENOPOMPE® 340
100 to 600 Hl/h : OENOPOMPE® 600
A top of the range volumetric wine pump…
■ Tested and qualified by the BNIC in Cognac (see the press release from April 2016)
■ Continuous, smooth, guaranteed jolt-free flow
■ Innovative technology with helical lobes
■ Up to 5 times less dissolved oxygen during transfers (see article from La Vigne magazine – February 2014)
■ Light, mobile, robust, 5 years breakdown cover
■ Easy draining, cleaning and maintenance
■ Barrel filling by electronic pressure sensor: regulation, automatic stop and restart
■ By-pass kit: stainless teel, manual settings
■ Automatic motorised butterfly valve: guarantees full impermeability when the pump is shut down
View the BROCHURE!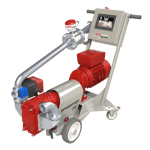 About PMH Vinicole
Finding the perfect balance between tradition and innovation: A centenary company PMH Vinicole combines extensive knowledge of the wine world, technical expertise and integration skills to provide practical solutions to customer needs and innovations to improve the vinification process.
Attentive to the needs of winemakers, and remaining constantly abreast of the latest technological developments, PMH VINICOLE designs and manufactures equipment which optimizes wine-making process performance and user comfort. It takes pride in its technical expertise combined with a practical understanding aimed at the continuous improvement of winery equipment.